Alternative flash content
Requirements
Plantation Club Regime 19 (unit 507)
May 13, 2008
Sliding patio door in living room repair complete. New glass (broken by golf ball) and new spacers installed. Interior glass panel re installed.
May 9, 2008 Remodeling/Addition Project Complete. Please enjoy!
Rain gutters and downspouts installed on the main roof and around new balcony. Gutter helmet installed on new rain gutters. Please remember, Gutter Helmet caries lifetime warranty. For any warranty issues or questions, please contact:
D.H. Fraser, Inc.
32 Hunter Rd. (P.O.Box 21441)
Hilton Head Island, SC 29925-1441
(843) 681-6759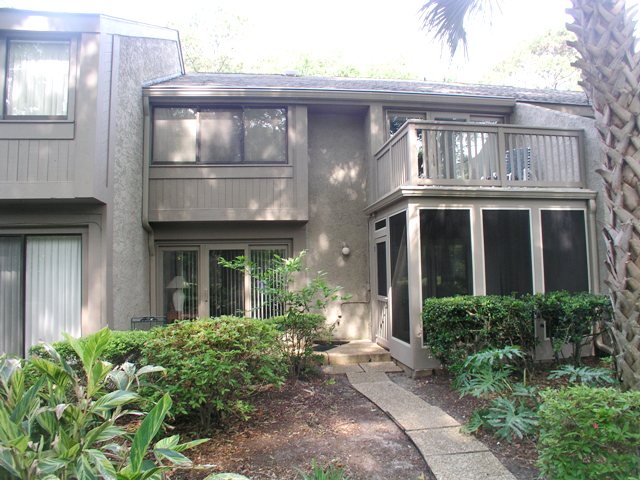 February 20, 2008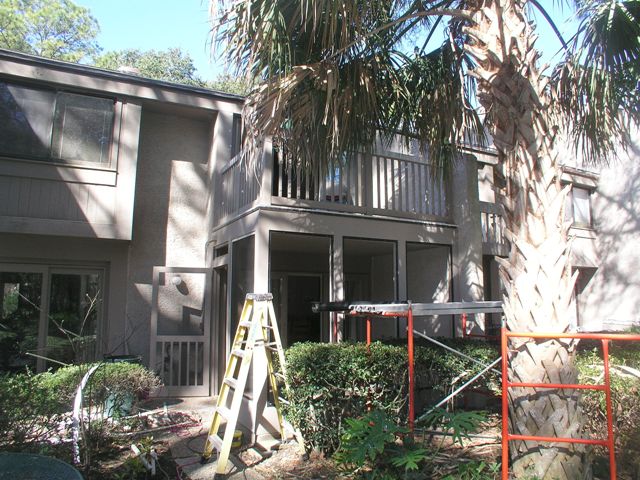 Screen installation and interior painting in progress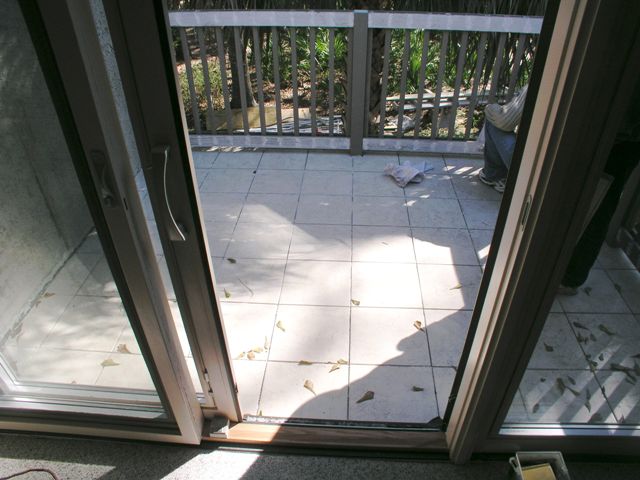 Balcony tiles installation.
February 12, 2008
Tiles installation in progress. Screen porch painting in progress.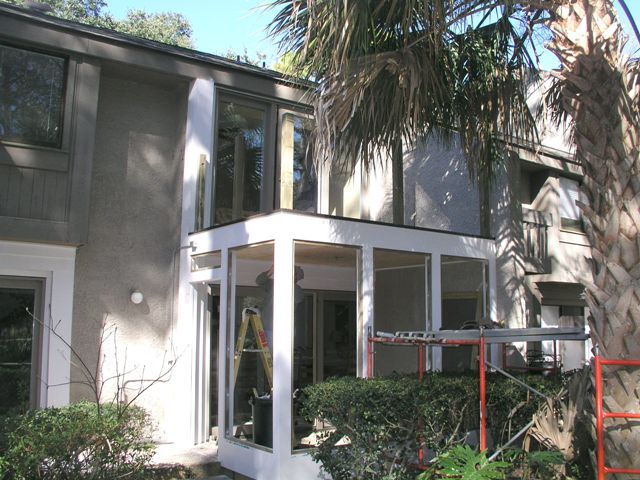 February 6, 2008
All three sliding patio doors installed, Wood repairs finished. New deck frame built. Electrical wire installation in aluminum conduit (Commercial application) finished. Electrical rough-in inspection scheduled for 02/07/2008. Trim board installation in progress.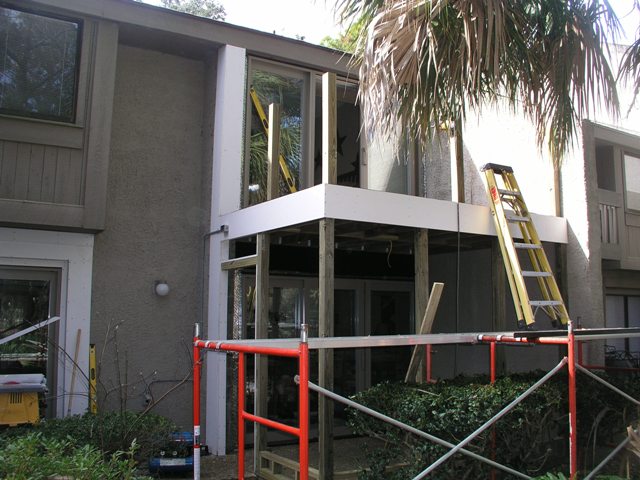 February 5, 2008
Commercial Rough-In Framing inspection passed.
February 1, 2008
New sliding patio doors installed in living-room and dining room. Old balcony framing demolished and disposed. New balcony framing is in progress.
January 24, 2008
Construction Update:
Town Of Hilton Head Island Building Permit Issued and received by EURO Construction;

Sea Pines Building Permit issued;

Three sliding patio doors scheduled for delivery on January 29, 2008;

Building materials ordered and scheduled for delivery on January 28, 2008;

Construction work schedule coordinated with rental agent;
---
November 28, 2007
Proposed work scope:
Demolish and dispose existing balcony above rear patio;

Remove and dispose existing cypress 1x12 and 1x10 trim boards between first and second floor sliding patio doors;

Inspect floor structure for moisture damages, perform necessary repairs;

Add pressure treated wood blocking for new balcony framing;

Build new balcony framing, enlarged to cover entire patio area below (approx. 10'-6" x 8'-1");

Build pressure treated framing for screened-in porch with weep holes for proper drainage.

Install approved handrail system around new balcony perimeter;

Install electrical wiring for one exterior receptacle, one switch (two gang) and one ceiling fan/light combo;

Install PVC wood grain trim boards on inside and outside of the new structure. Install 3/8" r.s. plywood on the porch ceiling;

Water proof balcony sub-floor with appropriate sealant according to owners choice of finished floor (Tile or decking boards);

Install floor covering (Porcelain tile is recommended);

Paint new structure inside and outside with SPARB approved colors (in this case, match existing villa colors);

Install "Screen-Tide" system (cap color beige) with charcoal black fiberglass insect screen. Install exterior grade 3'-0" x 6'-8" pressure treated wood screen door with exterior grade hardware.