Alternative flash content
Requirements
Stoney Creek Villas
December 20, 2007
After exterior renovation on Stoney Creek Villas, we are working on maintenance of the items , that were not replaced/repaired during construction. Exterior light sconces were replaced on building A-1 with new light fixtures. We tried to match new fixtures as close as possible to existing ones. Old wall sconces were used for broken fixture replacements on other units.
Another, bigger issue is entry gate. All the gates were constructed using 1 1/2"frame lumber and 3/4" vertical siding boards on both sides of the gate and are very heavy. We noticed failing hinges almost on every gate. Most hinges are installed on the gate with two wood screws in-between frame and siding board. Some gates display minimal-to-moderate sagging, but in most cases, existing hinges just can't hold heavy-weight gate.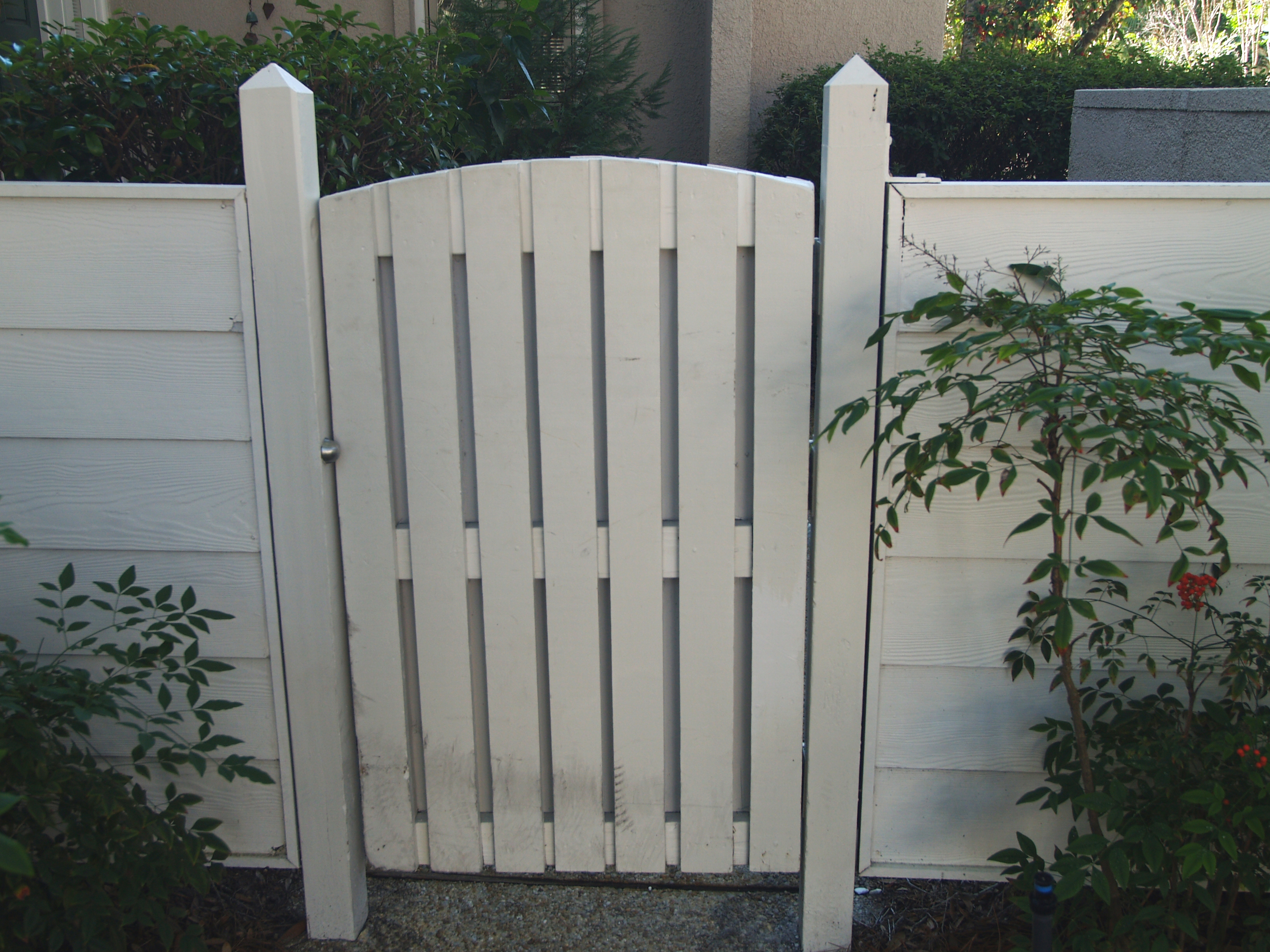 It is clearly visible in the picture above, that space between the gate and post is larger at the top and smaler at the bottom. This condition exists at most gates on the property.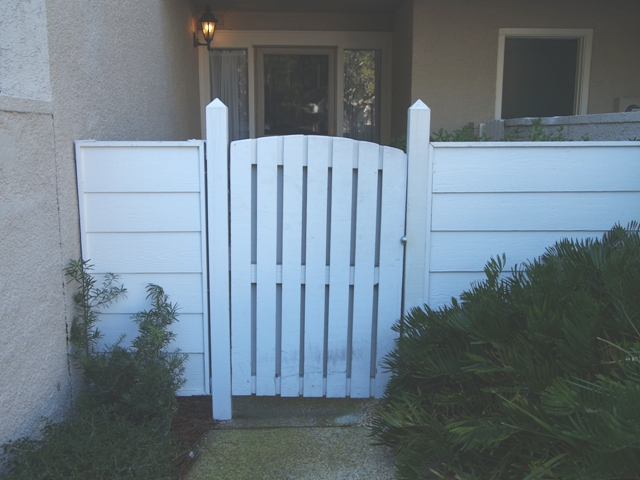 Some gates are already brushing against the adjacent post like the one in the picture above.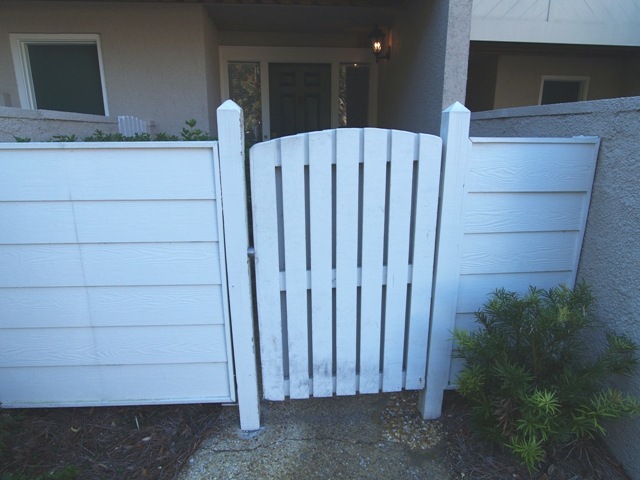 In some cases, space between gate and post is to large and gate stop is not performing at it's full capacity. Heavy gates operating on tension spring, constantly break-off gate stops. We believe it would not resolve the issue even if gate stops are doubled.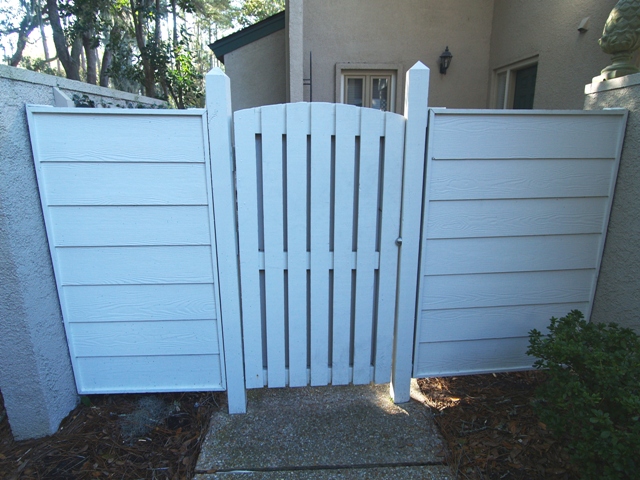 At some units, like this # 291, it looks like heavy-weight gate has caused support post to twist at the top.
In our opinion, repair and adjustment of existing gates would not be cost-efficient way to address the problem. Pressure treated wood 2x4 board that hinges are attached to, has aged and softened, due to long-term exposure to exterior weather conditions. Top hinge on many gates apear to be relocated at least once. Old holes exist from wood screws and serve to weeken wood. Same situation with presure treated 4x4 post. They are old, soft, warped and split, some of them twisted. Some posts are loose in the concrete walkway. Labaor amount. necessary to address gate issues is to large for maintenance work and almost reaching labor amount needed to replace the gate and both posts.
Per property manager's request, we have built a new gate for unit # 295. That unit had largest gate on entire property (almost 4' wide). New gate was built as prototype for Home-Owners to look and evaluate the design and for us to monitor it over the next few months and to see how it performs. Gate was built using PVC material (same as new fascia boards and siding on balcony guard rails), stainles steel, commercial grade hinges, handle and gate closing spring.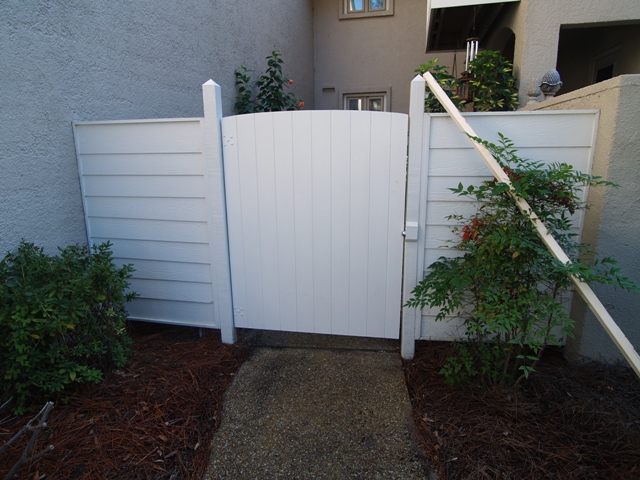 Loose 4x4 post on the right side was stabilized in ground with concrete mix. Three stainless steel hinges are attached to the gate using stainless steel through-bolts. Gate body is build using hot dipp galvanized fasteners and PVC adhesive. New gate structure is very strong and it weights only 60 Lb., where original gate weighted 138 Lb. We believe, that new gates constructed in such way wood serve not only as aesthetical improvement, but also as minimum maintenance element on your property. This new design of the gate is subject to discussion and approval by the Board Of Directors. Old gate from unit #295 shall be re installed any time upon property management request.
---
E X T E R I O R R E N O V A T I O N P R O J E C T
April 26, 2007 Construction Update
Guard rails on all units decks installed

Working on exterior light fixtures replacement

Working on landscaping retaining walls replacement
Project Update 12/20/206:
Construction work almost completed on Building B4 (units 271-274). Exterior paint is scheduled to start after New Year. Concrete patio replacement is in progress on phase "A".
*********************************************
Construction work is currently in progress on building B-9 (units 258-262). Decks and balconies are rebuilt on the rear side of the building. Our crew is currently working on the front side. Project supervisor's name is Gintaras Stankevicius. We have very limited space to store building materials and construction equipment in front of this building. We want to apologize for any inconvenience to villa owners and renters and thank you for your cooperation. Shingle roof replacement will be scheduled for second week in July (upon availability of roofing contractor.
New look of buildings at Stoney Creek Villas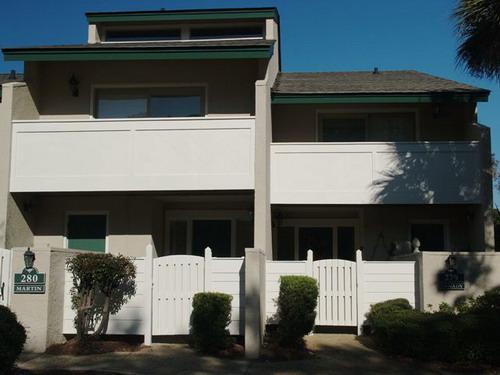 New Decks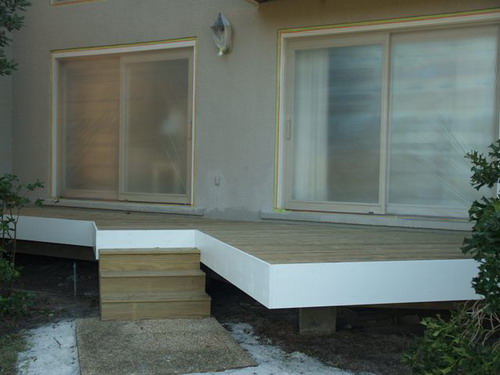 New Villa number/Owner name signs: