Alternative flash content
Requirements
Plantation Club Villas
Plantation Club Villas
22 Lighthouse Rd.
Hilton Head Island, SC 29928
Per multiple Villa Owners requests to enlarge existing balconies on the rear side of the townhouses and build screened-in porch enclosure under the new balcony, this web page is being published for your reference and information. Written request for renovation project preparation work was received from Mr. Peter Schwarzlose (President Of The Board) on January 26, 2007. It authorized EURO Construction, Inc. to start preparation and planing work for Unit # 510. Preparation work included developing elevation and detail drawing, load calculations, submiting design plans for review by Architectural Review Board (thereafter ARB) of Sea Pines Plantation and preparing Estimates for one unit.
Application for new design of the rear balcony with screen porch below was approved by Sea Pines ARB on February 20, 2007. Approval decission was made based on detail and design prepared for Unit #510. Following requirements were made by Sea Pines ARB regarding balcony extension and screened-in porch addition:
In order for your builder to obtain the Sea Pines Building Permit for this project; you (the Owner) and the selected builder must sign the enclosed documents

(please use the link on the right side of this page "SPARB Approval")

in two locations each (pages 7 & 10). Then, you or your builder must deliver these signed documents

along with the check for the required escrow deposit(s)

to our office.

The Owner and the Builder must sign the permit agreement before the permit may be issued.

The Board's approval is valid for six (6) months only. IF YOU FAIL TO OBTAIN THE BUILDING PERMIT WITHIN SIX MONTHS OF THIS LETTER, THE BOARD'S APPROVAL WILL AUTOMATICALLY LAPSE. If you desire to proceed with the construction, you will need to start the application and approval procedure all over, and pay new application fees.

Any new Balcony/screen Porch additions will have to be build and finished using same framing, trim and handrail detail as Unit # 510. Exterior paint on the new addition should match existing Building exterior. No other design, materials and/or paint colors shall be used without prior approval by Sea Pines ARB.
Below are some picitures of the approved design for Balcony/Screen porch addition: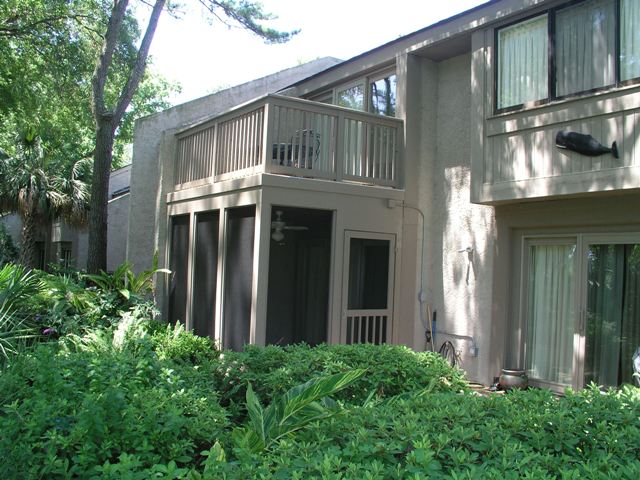 Electrical waterproof outlet, ceiling mounted light/fan fixture and switch are optional. In the picture below, there is a sample of tile floor installed on the balcony of unit 510. ARB did not make any specifications for the balcony floor finish. Therefore, its up to individual owner to choose either tile, wood or other type of flooring.